Football is the most popular sport in India, with a massive fan following for the national team. For any aspiring footballer, representing India is the ultimate dream and highest honor. The Indian football team competes in major tournaments like the FIFA World Cup qualifiers, Asian Cup, SAFF Cup and friendly matches all through the year. The national team recruits young talent from across India through a systematic selection process. This article explores the step-by-step procedure to how join the Indian football team.
Getting Started
For any footballer, the journey starts early by joining an academy or local club. Academies run by the Sports Authority of India (SAI) located across the country are an excellent place to get professional training from licensed coaches. Premiere footballing states like West Bengal, Kerala, Goa and North-East have many prominent clubs and Tier 1 academies to choose from.
After learning basics, players can opt for club trials or join age-level teams. Representing the state team in national school/college games is a major opportunity. Scouts from Indian Super League (ISL) clubs frequently visit major football tournaments searching for promising players. Getting selected to an ISL club academy ensures best facilities and training to develop your game.
While training, it is vital to play as many competitive matches as possible for experience. Alongside, maintaining fitness, working on weaknesses and watching videos of own matches helps in improving decisively.
National Team Selection Process
The All India Football Federation (AIFF) is the governing body that oversees player selection to all Indian football teams. There are five key stages:
District level trials: AIFF scouts conduct trials across districts to spot talented players as young as 12 years. Selected players proceed to regional level trials.
State and regional level trials: Conducted annually by state associations together with AIFF regional academies. Top performers recommended to national level trials.
National team trials: Held at AIFF academies in Goa and Kolkata. Best players picked undergo rigorous training at academies.
India age-group teams: High potential players represent India at Asian Football Confederation tournaments like the U16, U19 championships and Youth Olympics.
Senior national team: Based on performance, age-group players graduate to the senior India 'A' and main teams. ISL club players also get called up.
At every stage, players are assessed on technical attributes like dribbling, passing, shooting and game intelligence besides physical fitness, consistency and teamwork.
Opportunities for Young Players
I-League clubs – Outside ISL, the I-League has excellent clubs offering youth contracts like Mohun Bagan, East Bengal, Minerva Punjab FC etc.
AIFF Elite Academy – Top AIFF academies in Goa and Kolkata coach national age-group footballers. Admission through trials.
SAI Academies – SAI centers across India offer free training, lodging and sports scholarships to talented young players scouted via trials.
SAFF U-15 Championship – The annual youth tournament of South Asian teams is a major exposure for Indian talent.
Club trials – Keep attending trials by leading Indian clubs as well as IMG Reliance League.
University football – Platform to get noticed while studying. Colleges like Manipal have top teams playing in I-League second division.
Overseas opportunities – For exceptional players, chances to train with academies of international clubs.
Corporate leagues – Semi-pro leagues like IFA Shield and CFL organized by companies offer matches before big crowds.
Success Stories
Sunil Chhetri – Joined Mohun Bagan at 17 after impressing in youth nationals. Made India debut aged 20 in 2005. Captains India since 2015 with 72 goals in 115 games.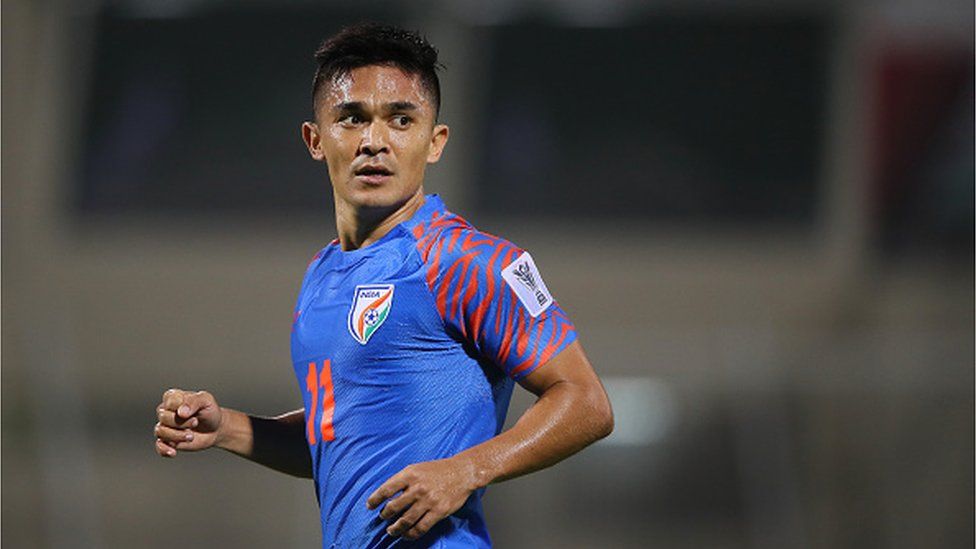 Gurpreet Singh Sandhu – Joined SAI academy in 2002. After U19 Asia Cup in 2008, signed for East Bengal and made senior India debut in 2011 aged 19. First Indian to play in UEFA Europa League in 2016 for Norwegian club Stabæk.
Sandesh Jhingan – Spotted at U16 nationals in 2010. Joined United Sikkim in 2012 and later Kerala Blasters FC through trials. Made India debut in 2015 aged 21. Won AIFF Emerging Player of Year in 2014.
Key Takeaways
– Joining prestigious academies like SAI early boosts chances tremendously
– Representing state and age-group India teams is major exposure
– Strong performances in ISL/I-League clubs is fastest path currently
– Maintaining high fitness levels is critical throughout the journey
– Make use of all possible competition opportunities – trials, leagues, nationals
– Consistent hard work, patience and self-belief is essential to realise the dream of playing for India!
For upcoming Indian players, being part of the national team is the highest achievement and a career-defining opportunity. Football's rising popularity in India has expanded talent scouting and opened multiple pathways to the top. With the right dedication and preparation, talented footballers can navigate the system to successfully join the Indian football team. Representing the country at major tournaments against the best in Asia and world football is an unparalleled honor.